"We only sell the art we believe in," is a motto that well serves Kennebeck Fine Art, the Louisville, CO based company owned by Jill and Mark Muller. "My recipe for business is to have quality art that is reasonably priced and that I can sell to any collector, from a beginner to one that is sophisticated and knowledgeable," says Mrs. Muller. "I tell people, 'You love it, you buy it!'"
"We have similar tastes," she says of her and Mark's views on art. "And if we feel very strongly about an artist, we will get behind them, put money into their program, and work to realize success for the artist, the gallery, and ourselves."
Kennebeck represents the work of about six artists. Although it has moved its focus from prints to paintings, 60% of revenue derives from sales of prints. Almost 30% of business is derived from sales overseas, primarily in Japan, where Kennebeck has a distribution agreement, and in the U.K. where DeMontfort Fine Art distributes Dmitri Danish's work.
In 2005, Kennebeck established a partnership agreement with DeMontfort, a leading British publishing company based in Lichfield, Staffordshire, England, to form DeMontfort USA to distribute that company's artwork in the U.S. Mark Muller heads up this operation from Louisville.
The addition of DeMontfort's diverse range of artwork positioned more affordably than Kennebeck's offerings, presents the opportunity to penetrate additional markets to those served by Kennebeck.
The Mullers, who established Kennebeck Fine Art, originally known as Kennebeck Editions, in 1999, have been in the art business for many years. Together, they have a very specific vision for their company and for maintaining a balance in their lives.
"We are a small company and wish to remain that way. We both have worked with large companies and prefer, as owners, to be very hands-on with our galleries, artists, and employees," says Jill. We have seen what can happen when you lose focus, and prefer just to have a handful of quality artists that have a sophistication yet commercial appeal as well. Even though some may consider 'more is better,' we have seen the stresses from handling too much. We have a small cohesive team of administrative help, Web design, and shipping. Today, we have a very full life and can sleep well at night. Rarely do issues come up that we can't resolve right there and then. Time with our three teenage kids is very valuable to us, and although we work hard during the week we do not carry this on into the weekend or nights. We have peace of mind."
To a great extent, it is their longevity in the industry that has sharpened their focus.
After graduating from USC in the early '80s with a degree in fine arts, Jill decided not to be a "starving artist" and instead went into selling art. She was hired as a director of one of the Upstairs Galleries, part of a Southern California chain. After four years of working retail she was approached by Ron Segal of Segal Fine Art and soon became vice president of the company. At the time, Mark was a tax attorney at a big eight accounting firm working long hours. "He quickly saw how much fun I was having, making good money and working 9-to-5," she recalls. Segal Fine Art hired him to be the CFO of the company, where together they worked for over 12 years. Then Jill was approached by businessman Jack Massimino to start a new art publishing company, and she, Mark, and Mr. Massimino established Kennebeck Editions. After two years the company was acquired by the Mullers.
Initially, the company was just about prints, but after the Mullers became sole owners, they moved the direction toward originals and changed the name to Kennebeck Fine Art to reflect their new business model of a distributor of paintings, as well as a publisher of limited edition prints. In today's market, to be successful as a publishing company, you have to have the paintings, observes Mrs. Muller. "There used to be plenty of galleries that sold graphics only. That has changed quite a bit, and has gone to 50-50 graphics and originals for many." Kennebeck Editions' agreement with its artists was for prints only. "So when Mark and I acquired the company, I knew this was a major issue and, going forward, tried to get painting contracts. But the artists had no interest. They were selling them on their own and it was a win-win situation for them. They could sell their paintings, and I would get them more exposure through marketing their graphics. Now, when I sign a new artist, I require a minimum of 60 paintings a year or, hopefully, up to 100, because I can sell that many by an artists I believe in. Good artists have approached me who I would be honored to publish, but if they already have a gallery network for their paintings, I would not take them on to sell only their prints."
So, Kennebeck began to exclusively take on artists that made available originals—and with some of them, the company offers only their paintings, such as Greg Carter. His paintings are sold through six galleries, and if they each sell 15 for a total of 90 paintings in one year, that works out well. As Jill says, "His price points are so good (beginning at $2,000), why make a print?" His paintings are about texture and application of the paint which does not necessarily readily translate into a print. Kennebeck's originals for all of its artists retail from $1,200 to $10,000 depending on size and artist. An average painting probably runs at $3,000 retail, making it affordable for most collectors.
Kennebeck has, however, done projects with Larson-Juhl to cocreate framed models for custom frameshops to display new moulding designs. For this, Kennebeck published two paper editions of Carter's work which Larson-Juhl framed and offered to its customers. In fact, Steve McKenzie, Larson-Juhl president and CEO and an avid art collector, has Carter's paintings in his private collection and, for his company's 2006 holiday greetings card, he commissioned an image by Carter. The cross marketing venture for the framed models, worked well, in Mrs. Muller's opinion. The framed editions sold out, "and we got great exposure, resulting in Larson-Juhl's clients asking us for originals."
An artist who has recently joined Kennebeck, and whose work is only available as originals, is Alfredo Palmero from Spain. The artist's sister sought out the company at the New York shows. "It was a really busy time for me, but she kept on trying to show me his work. When I looked at it, I instantly knew it was different—unique, European, and something we didn't have. I was really moved by the work and we struck up an agreement. She sent me 15 paintings in the summer, and we have sold about half of them so far." At 20 by 24 inches they retail for $6,000 and at 30 by 36 inches, for $15,000, a higher price point than is typical for Kennebeck.
Mrs. Muller found British artist Malcolm Ludvigsen on the Internet. "His plein air landscapes are so simple they are almost abstract— and I like the price point. He is prolific, too. Price and plenitude are important, she concedes. Ludvigsen's oils at 12 by 18 inches are $900; 18 by 24, $1,300; and 24 by 30, $1,900. "You are getting a quality fine art painting—not decorative art—for that price, which can meet the needs of a collector just starting out."

Selecting Artists
"What I try to do is find artists that are in some way unique from my other artists so that they don't look alike. For instance, both Carter and Danish do landscapes, but they are very different. I don't want one artist to compete against another in my company," says Mrs. Muller.
Newly signed is Shu-Ping Hsieh from Taiwan. "I have followed her work through her years at the Academy of Art University in San Francisco, and have waited for her to complete her training and have an impressive body of work for me to introduce to the galleries. The time has finally come!" Originally from Taiwan, Shu-Ping came to the U.S. to study at the academy, where she obtained a B.A. in illustration followed by a graduate degree in fine arts. It was the cultural constraints of conservative Eastern values that brought her to leave the country she loves and pursue her interest in figurative painting, with an emphasis on the female body—an aspect not widely accepted in the East.
Kennebeck's most successful artist in terms of print sales is Danish, who lives and works in the Ukraine "We have been publishing his work for three years and it is selling so well. We have 23 different limited edition giclées of his work with many having sold out." The edition sizes generally are 75 each of a medium size (20 by 32 inches) and 75 of a large size (30 by 40 inches), retailing for $1,000 and $1,600, respectively. They are all on canvas, embellished and stretched.
Kennebeck's printer is Van GoghAgain Editions, located close by in Louisville, and owned by Doug Komhyr with whom the Mullers have a partnership relationship. The two companies have a similar business philosophy— to provide a quality product in a timely fashion, with great customer service.
Although Kennebeck Fine Art sells more prints than paintings, Mrs. Muller believes that if she had the paintings, she would sell more of them. Paintings by Danish retail from $2,500 to $10,000 and Kennebeck sells every one that he produces which is about 80 per year. There is a waiting list despite the fact that his prices were recently raised by 25%. "We believe that slow and steady wins the race and typically raise our prices 15% a year."

Gallery Relations
Kennebeck works with a lot of galleries— its e-mail list is about 6,000—but on a day-to-day basis it partners with about 50. "We do not have a preferred program but we give exclusives to the galleries that sell and promote our work. No fancy contracts with gallery owners that they must sell "X" amount to get Danish's work. We just ask them to frame, display, and promote it properly— and it will sell. A small gallery in Edmond, OK, is not going to sell the same amount of work as a high profile gallery in Southern California, so I am not going to make them buy the same amount to get the exclusive. It's the same as telling my kids that they don't have to get all A's in high school, although A's are great—just do your best, do your homework, and study your hardest, and that is what I ask of you. In the end, if they do this, they will be successful."
As regards marketing, the company does co-op ads with steady Danish galleries. For instance, Vinings Gallery in Atlanta ran a full page ad of Danish's work in Atlanta Homes and Kennebeck paid for half of the ad with Danish giclées credit. It also does promotions. In the late fall, Kennebeck released "Early Evening" by Danish as a hand-embellished giclée in two sizes. Galleries that ordered early were offered a complimentary giclée on paper, "Wintertime In Venice," designed as "a great holiday gift for yourself or client." The piece, retailing for $75, could also be ordered separately.
Kennebeck also provides its galleries with such marketing materials as artist biographies, postcards that can be customized, brochures to mail out, and on request, sets up customized e-mails for dealers to send to their clients. Some work is sold framed, such as that by Carter who likes an unadorned gold frame, and the cost is included in the price. Jill also offers galleries framing suggestions. Kennebeck has just published a softcover 120-page art book for Danish and plans to release a hardcover edition in the spring, both of which can be used by galleries as marketing tools. "I think it is important to just offer good customer service, so when a gallery places an order it is processed in a timely manner," Mrs. Muller summarizes.
There is an exchange policy whereby it replaces artwork value for value, provided the gallery has hung the piece for at least 60 days. It doesn't do the gallery or Kennebeck any good if art does not move, she believes.
"I think it is important not to burn any bridges, and if you have an agreement with someone, you need to follow through and be honorable. I think a lot of people who have come and gone (in the industry) have changed the deal. If a client is not happy, it bothers me and I will try to make it good."
There are expectations of galleries. They must exhibit the work they carry appropriately and hang several pieces, nicely framed. "One won't sell, but if you have four or five, they will." Discounting is an absolute no-no. "I don't sell to galleries that discount," states Mrs. Muller. If a gallery is found discounting Kennebeck work, she will talk to that gallery, warning them. If it happens again, she does not deal with them any more. "I know the galleries that are ethical, and those are the ones I want to deal with. This is my career, my livelihood, and a big part of my life, and I want to be doing this until I retire. This market is too small to burn bridges. All the players know each other and we all talk. Reputation is very important, as well as the art." The market is tougher nowadays, and much of a publishing and/or artist management company's success, she believes, is dependent on the people behind that organization.
Mrs. Muller is always open to working with new galleries, but she feels her energy is best expended on those that are solidly behind her artists. She works very closely with a dozen or so galleries, talking to them every week and getting feedback. She will spend two hours at a time giving them tips on selling the work, creative framing ideas, or operational insights. After all, she has worked retail. "I think it is equally as important, perhaps more so, that I visit my old clients. It is essential to maintain old relationships as much as you can because they are the ones that will be there for a long time. You have done good by them, you should reciprocate."

DeMontfort USA
The idea for creating DeMontfort USA originated serendipitously after the Mullers approached DeMontfort, seeking distribution in the U.K. for some of its artists. "The more I thought about it, their diverse line of art that is very different from ours in that it is more whimsical and varied, I saw we could reach markets we had not been participating in," says Mr. Muller. "I had a feeling that a lot of galleries that are carrying limited editions are missing a segment of the market by not being diverse and focusing only on the higher end canvas giclée."
He saw the combination of the two companies' products making for a "one-stop shop," from prints on paper at one end to sculpture at the other, with a wide price range. "In sales, we try to get rid of excuses, 'It's too expensive, too this or that,' and to have something for everybody we thought was a good concept."
DeMontfort represents the work of more than 70 artists, although Mr. Muller is initially concentrating his efforts on about 10, including Doug Hyde, Chris Bennett, Henderson Cisz, Sheree Valentine-Daines, Hutch, Malcolm Teasdale, Tony Linsell, and Graham McKean.
Mr. Muller admits that initially there was a reluctance on the part of higher end galleries to carry a less expensive product because they tend to go for the "big sale" rather than multiple smaller sales. Galleries with high overheads were hesitant to take up wall space with art of a lesser retail value. DeMontfort USA's prints are mostly on paper, retailing for $50 to $600. Its bronze sculpture editions sell for $1,000 to $2,000.
However, some galleries are now using a combination of wall space and the Internet to market the prints, thereby enhancing the gallery overall. Thus, Mr. Muller says, Kennebeck Fine Art and DeMontfort USA help each other. "The affiliation increases the power of Kennebeck and also takes DeMontfort into areas they have not been in previously."
To reach Kennebeck Fine Art, telephone (303) 665-5549 or visit: www.kennebeck.com; for DeMontfort USA, phone (303) 665-5594, or go to: www.demontfortusa.com.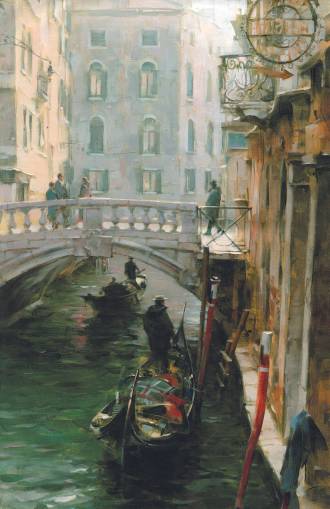 "Wintertime in Venice" by Dmitri Danish, newly released as a giclée on canvas, 20 by 32 and 26 by 40 inches, in editions of 75.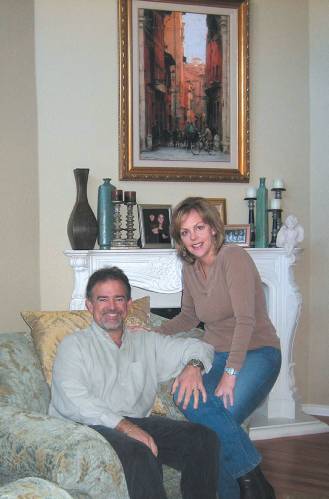 Jill and Mark Muller, co-owners of Kennebeck Fine Art, with Dmitri Danish's "The Bicyclist," shown, over the mantle.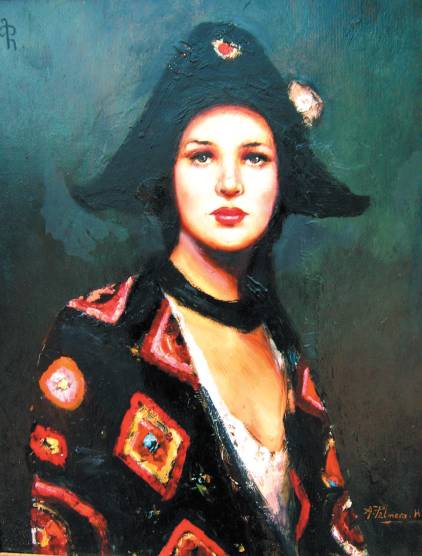 "Arlequin con Manton" by Alfredo Palmero, an oil painting measuring 13 by 16 inches.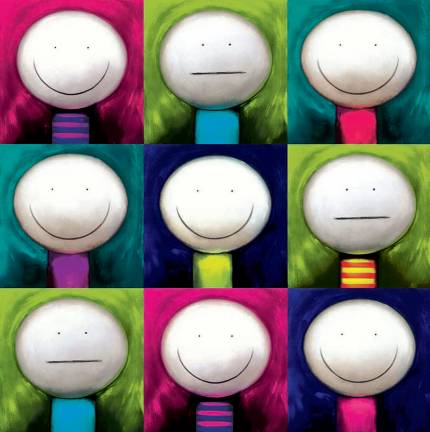 "One in a Million" by Doug Hyde is a giclée on paper in an edition of 295 with a 24- by 24-inch image, and giclée on canvas, edition of 95, with a 38- by 38-inch image.